Disconnect from everything to reconnect with the beauty of life
Discover the real Delta lifestyle
Live an inspiring experience with a local family in Delta del Paraná. Share stories, savour tasty homemade food and Argentinean boutique wines, get an insight into the island lifestyle, enjoy this natural wonder and relax while riding peaceful rivers on a unique handcrafted boat.
We welcome you with a tour around our traditional home. Then we set sail in our charming boat towards the Paraná de las Palmas river, discovering the local life in the islands. After an enjoyable boat ride through subtropical landscapes on narrow streams and wide rivers of the Delta, we anchor in a stream surrounded by wild nature to taste a full cooked-on-board lunch with great Malbec wines. We slowly return home through different rivers to share a refreshing homemade ice cream and a 'mate' ritual.
The experience begins around 9:30 in the morning and ends at 17:30 in the evening.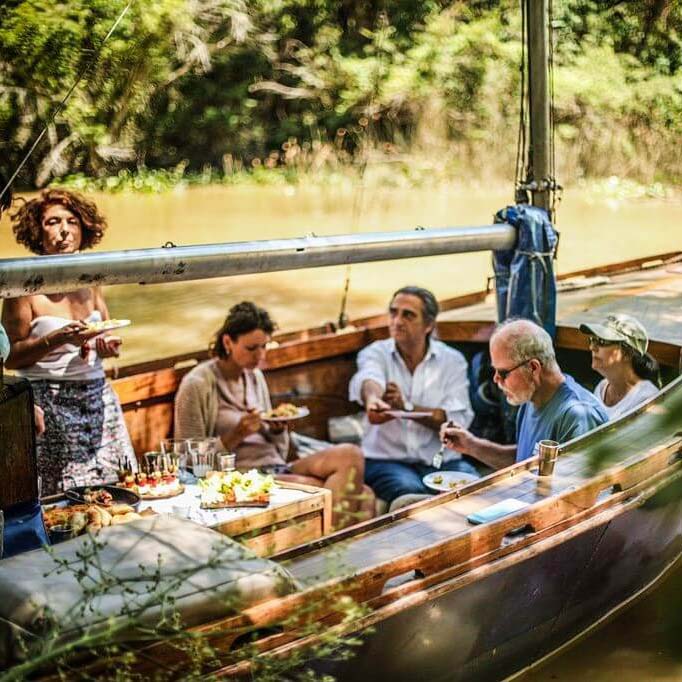 We live in a historical place. Back in the days (1880-1975), the events of the Paglietini recreational club took place here. It was one of the most important spots in the Delta, where residents and visitors gathered for lunch, to play lawn bowls or dance tango.
We restored the original kitchen, keeping the old clay oven where Ralph cooks artisanal breads and other delicatessen.
As every island house, it has a huge gallery that is not only the meeting point with our visitors, it is also here, where the house blends into the surrounding wild green space of native forest, reeds, flowers, fruit trees, birds, including a whole flock of hummingbirds, cats and dogs, and a vegetable plot that we pamper day by day.
Alongside, we built our log cabin which has the charm of a typical Delta house and a Swiss touch.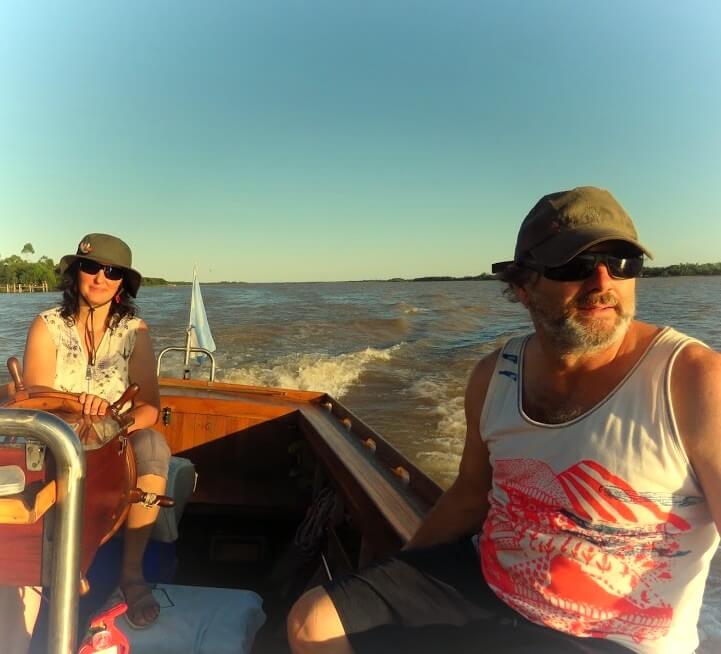 We are Ana and Ralph, a local Argentinian-Swiss family with a little son, opening our home to share with you our daily life and the unique and outstanding natural environment of the Delta del Paraná rivers and islands.
We, with our little son, have been offering this memorable experience for 13 years to share our passion about living here.
This is much more than a boat trip, it is about making friends, sharing amazing conversations, peacefully riding in our beloved handcrafted boat, unplugging from everything to reconnect with ourselves, nature and the beauty of life.